With the capability to process, custom package and fabricate melamine foam in the production of eraser products Queen City Manufacturing offers a robust and complete melamine foam solution.
Listed below are just a few of the foam, polyurethane, chamois and customizable packaging solutions we are able to provide you.
Multiple Melamine Eraser Sponges
Square and S Sandwich Erasers
Liquid Absorbing Shaminator Erasers
Dual Purpose Scrubby Erasers
Melamine Cleaning Machine Floor Pads
Super Absorbent Shammy Towels
Printed Poly Wrap and Custom Cartons
Solutions Showcase
Our customer's feedback leads to exciting new product development.
Queen City Manufacturing has developed an entirely new cleaning machine floor pad using the advanced Basotect Melamine Foam which achieves incredible results.
A flexible cleaning machine floor pad that is designed for low speed machines and comes in a variety of sizes! Read More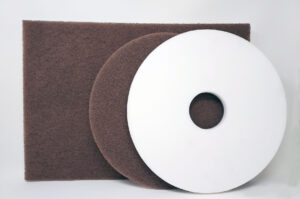 Custom Solutions
Looking for a complete solution? From custom melamine foam fabrication to printed polywrap packing we offer a wide array of flexible manufacturing solutions.
Success from solutions, something that has defined Queen City Manufacturing as North Americas largest private label converter of melamine foam for BASF Germany is our distinct ability to offer custom solutions to our vast and ever growing client base.